Surgical Site Closure – 30 Sites in Indiana Receive Closure using ORC
---
CASE SUMMARY
Surgical Site Closure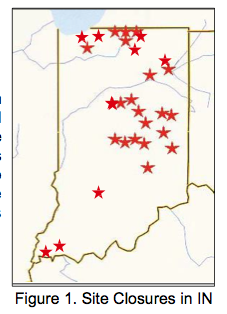 The "Surgical Site Closure" strategy was developed by Mr. Steve Sittler, an employee of KERAMIDA in Indianapolis, Indiana. The method is an innovative remedial strategy designed to intelligently integrate natural attenuation, risk-based cleanup goals and focused source removal/treatment to cost-effectively remediate contaminated areas. This approach is best applied at sites where released materials are amenable to biodegradation and where long-term, natural attenuation-type strategies are not suitable for reasons of property transfer or potential off-site liability. This strategy was performed at 30 sites in Indiana for a major oil company.
Service Stations/Bulk Storage Terminals – Indiana
From 1998-2008, a total of 30 service station/bulk storage terminal sites were targeted for Surgical Site Closure in Indiana. The subsurface matrix consisted of unconsolidated sediments ranging from low-permeability silty clays with sand stringers to sand and gravel formations. The contaminants of concern were primarily gasoline and diesel fuel. A combination of source removal via excavation coupled with enhanced in situ bioremediation using Oxygen Release Compound (ORC®) was performed at most sites.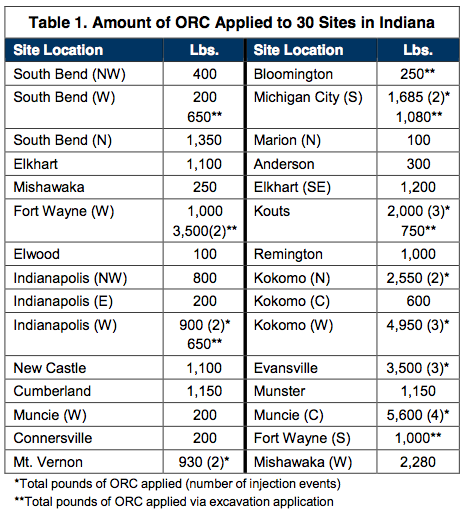 REMEDIATION APPROACH
The remediation approach included focused soil excavation of the source area and/or ORC direct-push injection. At some sites ORC was applied to the base of the excavation prior to backfilling. Shortly afterwards, a direct-push injection of ORC was completed over the remainder of the plume. The amount of ORC needed at each site location was determined using various site characteristics including contaminant concentration, seepage velocity, and treatment area.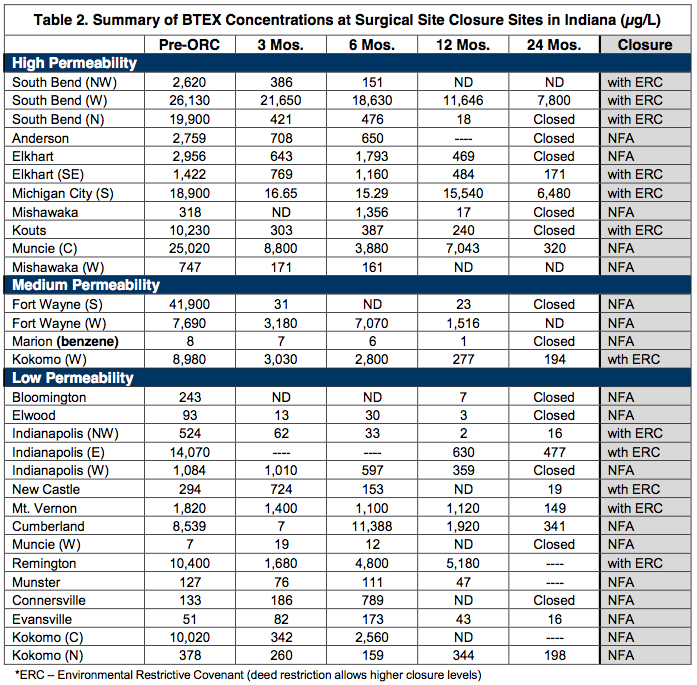 The majority of the sites were successfully treated using only one injection of ORC; however, a handful of sites received multiple applications. Most of these sites indicated that high levels of BTEX were present prior to treatment (>1,000ppb to <50,000ppb) and required additional applications to sustain aerobic bioremediation.
CONCLUSION
The Surgical Site Closure method was successful in reaching site closure at 30 petroleum-impacted sites over a nine-year period. The average time to reach site closure was ~3 years and the average cost to implement the remedial strategy was ~$70,000. Cost analyses indicated that a traditional remediation approach would have ranged from at least $100,000 to potentially $1 million. Actual implementation costs for the Surgical Site Closure approach ranged from approximately $25,000 to $75,000 plus monitoring costs.