By Tricia Rodewald, Vice President of Marketing, REGENESIS®
Reading the news on a daily basis can be a disconcerting effort, particularly when it concerns health-related risks. Take the recent developments in North New Jersey towns, where residents opened their morning North Jersey Record on Valentine's Day of 2016 to an article that detailed elevated levels of perfluorooctanoic acid (PFOA). According to the piece, PFOA is "linked to kidney and testicular cancer, as well as high cholesterol, ulcerative colitis, thyroid disease, pregnancy-induced hypertension and other illnesses in a still-growing body of research. There are also probable links to low birth weight and decreased immune responses."
PFOA and its counterpart perfluorooctanesulfonic acid (PFOS) are just two examples of man-made chemicals that are increasingly being identified in public groundwater resources and are impacting lives. Environmental professionals are actively seeking out solutions designed to counteract the ubiquity of these toxins and provide a level of safety protection for individuals, businesses and governments and are turning to innovative solutions to combat the problem. In short, ingenious techniques, products and services are being designed and implemented around the world to counteract the spread of potentially dangerous substances. At REGENESIS® we are creating ground-breaking solutions that effectively mitigate chemical environmental degradation and over the years we have provided solutions for more than 26,000 soil and groundwater sites globally.
Starting Points
In order to effectively build the resolution formulas to handle complex contamination, it is necessary to first understand the nature of the problem and chemicals in question. What then is behind this most recent revelation of PFOA and PFOS? To start, the first line of thought is determining what PFOA is and why it matters. According to the New Jersey paper, PFOA is "a man-made chemical used in the manufacture of stain-resistant carpets, waterproof clothing, non-stick cooking pans and other products that make life less messy, and has spread so far through the environment that it can be found everywhere from the fish in the Delaware River to polar bears in the Arctic."
Scale and Scope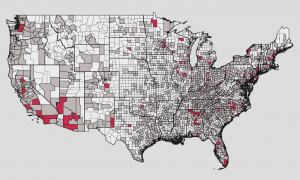 According to an August 2015 report by David Andrews, a senior scientist with the Environmental Working Group, in the U.S. alone, nationwide testing indicates that 6.5 million Americans in 27 states are drinking water tainted with PFOA and other related and potentially toxic PFAS chemicals. 94 public water systems in the nation contain some level of these dangerous chemicals, which can cause cancer, birth defects and heart disease and weaken the immune system. An interactive map is included in the report to give readers information on places where contamination has been detected.
Dr. Mariann Lloyd-Smith, who is part of the working group that reviews substances for the United Nations' Stockholm Convention, aimed at controlling some of the world's most dangerous chemicals, claims PFOS and PFOA are "poisons without passports" for their ability to spread throughout the world. "We already have PFOS contamination throughout the globe now," she says.
Time for Action
Recently, top researchers and leading scientists from around the U.S. convened at the 2016 Emerging Contaminants Summit in Westminster, Colorado, to address the mitigation of contaminants such as PFOS and PFOA, which are released into the air, soil, ground and surface water via industrial processes, military and firefighting operations and consumer product use.
At the inaugural summit, renowned experts from multiple disciplines shared insights and ongoing research, including information on the use of highly specialized instruments such as LC-MS and LC-MS/MS, which detect and analyze contaminants down to the parts per trillion (ppt) level. Using a combination of liquid chromatography (LC) with mass spectrometry (MS), these tools have the increased sensitivity capabilities needed to gain more structural information on toxins in the soil and groundwater.
Once identified in the environment, the next question is how to remediate these contaminants. PFOA, PFOS and other similar per- and polyfluorinated substances (PFAS), however, are recalcitrant in the environment and require extreme conditions to initiate chemical transformation reactions. In fact, most physical, chemical, biological and thermal in situ remediation techniques are ineffective, particularly in preventing the spread of plumes underground.
Results from sites around the world indicate that the most common possible treatments, namely pump-and-treat and ex situ techniques, which use activated carbon filters on site, may need to be in place for 10, 20 or, in rare instances, up to 100 years to remediate groundwater contaminated with PFAS. In addition, pump-and-treat technologies do not address on-site risks associated with in-surface soils.
Solution Innovation
One in situ technology, however, does offer a new means to address these challenges. Launched in 2014 by REGENESIS®, PlumeStop® Liquid Activated Carbon™ is an environmentally friendly, patented, in situ remediation substrate that quickly and effectively treats contaminated groundwater and prevents the spread of contaminated plumes. Through highly dispersible, fast-acting, sorption-based technology, which captures and concentrates contaminants within its structure, the groundbreaking product lasts for decades, pulling contaminants directly from groundwater. PlumeStop is composed of very fine particles of activated carbon (1-2µm) suspended in water through the use of unique organic polymer dispersion chemistry. Once in the subsurface, the material behaves as a colloidal biomatrix binding to the aquifer matrix, rapidly removing contaminants from groundwater and expediting permanent contaminant biodegradation. The key elements of this technology, particularly for treating groundwater contaminated with PFOA and PFOS, include its cost-effective ability to inject an in situ barrier of colloidal-activated carbon that distributes widely and evenly under low pressures in the permeable channels. Cutting off migrating plumes, PlumeStop rapidly absorbs PFOA and PFOS even at low concentrations and has years of sorption capacity with a single application. Higher doses or reapplications allow for extended longevity. It is also more cost-effective when compared to other techniques and is being applied by engineering and environmental consulting firms across the U.S. and Europe.
Final Reason for Optimism
PFAS have the potential to cause significant damage to global populations and will continue to impact communities because of their widespread use and capacity to infiltrate the worldwide environmental ecosystem. Yet it is most important now and in the years ahead to develop innovative technologies within environmental remediation techniques. A focus on effective solutions to help mitigate the serious dangers associated with PFOA and PFOS as well as other PFAS contaminants is key.
When considering that chemical compounds both synthetic and natural are found in and make up all aspects of life, it is a mistake to succumb to the fear of these substances. The indomitable spirit of humankind has always embraced the rigor of finding solutions to make life safer and more secure. The importance of discovery and advancement in scientific and technological endeavors will ultimately address the problems associated with PFAS and, throughout the future, the new challenges facing the global community.