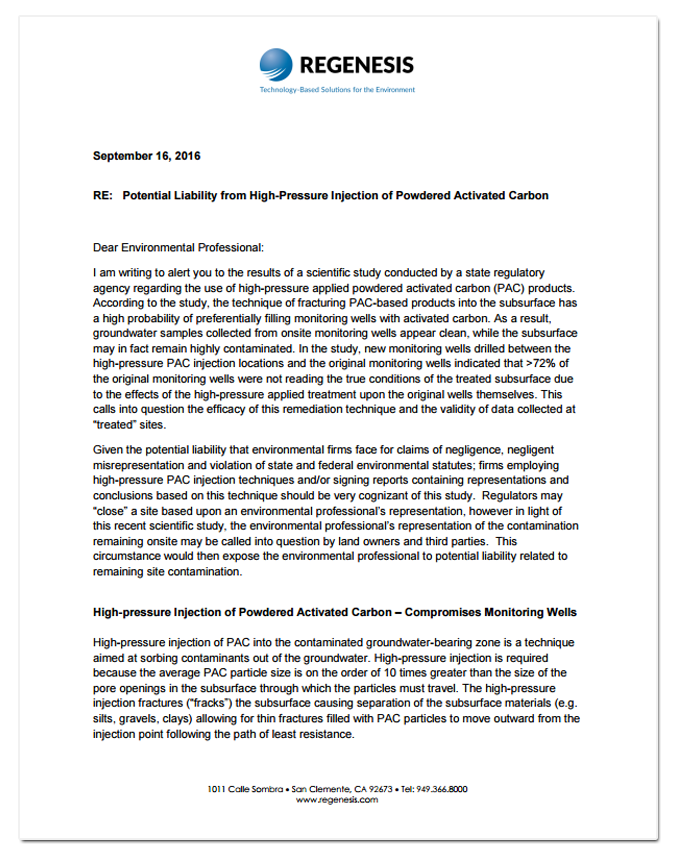 Understand Potential Impact To Your Firm
In an effort to inform and bring to light the important results of a recent scientific study entitled "Petroleum Remediation Using In Situ Activated Carbon," Scott Wilson, President and CEO of REGENESIS, has proactively generated a letter detailing the results of the study and how it may impact firms that have applied a powdered activated carbon remediation approach to their clients' sites. To read the letter, access the scientific study cited, and understand how your firm and clients may be affected click here.
Scientific Study Released from State Regulatory Agency
As environmental firms take on more responsibility in the cleanup of impacted sites, it is important to understand the liability facing firms when it comes to recommending and implementing remediation approaches. Recently at a national conference, a state regulatory agency presented the results of a scientific study regarding the use of high-pressure applied powdered activated carbon (PAC) products, highlighting a potential liability with sites where PAC was high-pressure injected.  According to the study, the technique of fracturing PAC-based products into the subsurface has a high probability of compromising existing monitoring wells (presumably by the injection fractures intercepting the well and irreversibly pressure-filling the well and filter pack with PAC particles).
False Positives in Monitoring Wells
As a result, groundwater samples collected from these monitoring wells appear clean, while the subsurface may in fact remain highly contaminated. In the study, new monitoring wells drilled between the high-pressure PAC injection locations and the original monitoring wells indicated that >72% of the original monitoring wells were not reading the true conditions of the treated subsurface due to the effects of the high-pressure applied treatment upon the original wells themselves. This calls into question the efficacy of this remediation technique and the validity of data collected at high-pressure fractured PAC treated sites.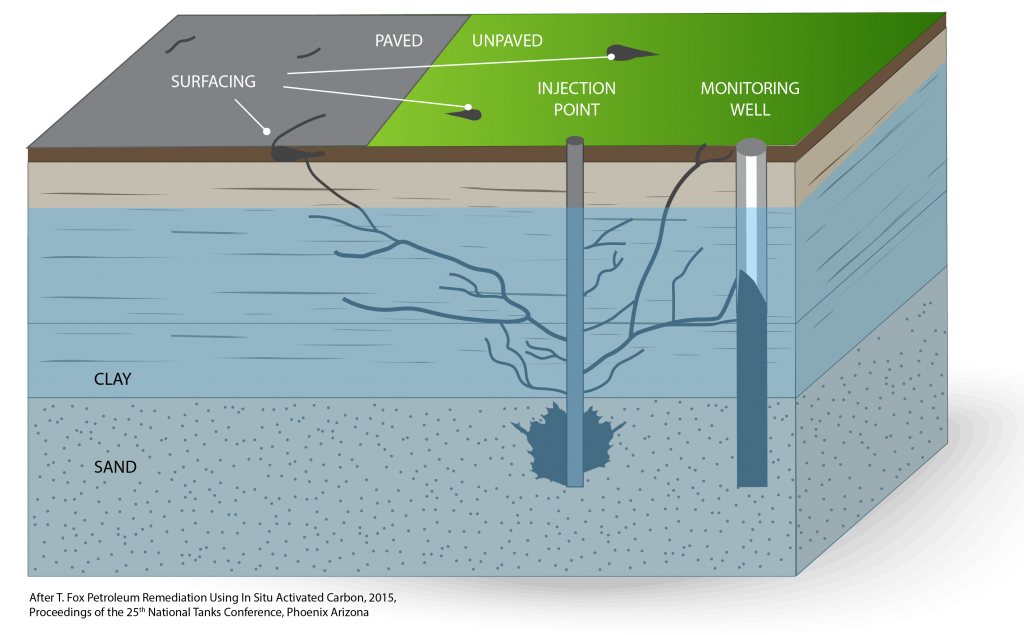 Potential Liability Facing Environmental Firms
Given the potential liability that environmental firms face for claims of negligence, negligent misrepresentation and violation of state and federal environmental statutes, firms employing high-pressure PAC injection techniques and/or signing reports containing representations and conclusions based on this technique of fracturing PAC products should be very cognizant of this study.  Regulators may "close" a site based upon data from monitoring wells. However, if the data in the wells is showing false-positive results for cleanup, when the site has not actually been fully treated, the environmental professional's representation of the remedial performance may be called into question by land owners and third parties.  This circumstance would then expose the environmental professional to potential liability related to remaining site contamination.
Not All Activated Carbons Are Alike
REGENESIS' PlumeStop Liquid Activated Carbon™ (LAC) should not be confused with PAC products.  Consisting of activated carbon particles orders of magnitude smaller than PAC, PlumeStop does not require high pressure fracking to apply, rather it simply flows into the subsurface through natural flux zones and is never pressure-fractured into monitoring wells. To learn more about the difference between LAC and PAC, click here.