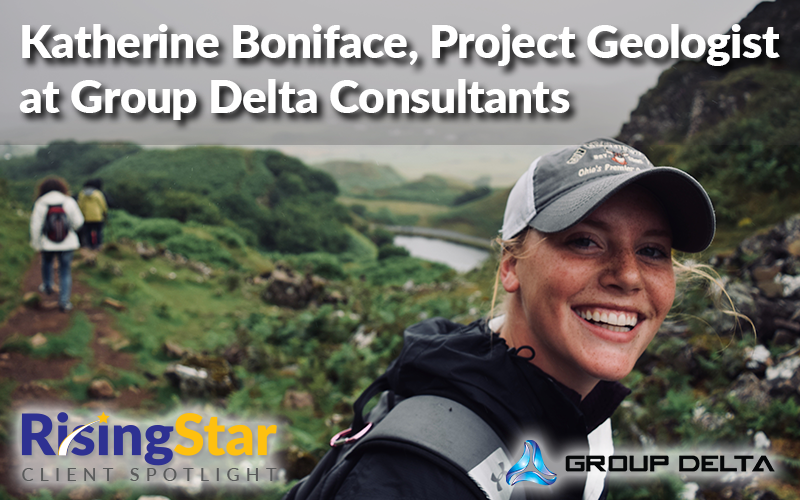 When Katherine Boniface elected to pursue a career in environmental remediation, a key motivator beyond doing something positive for the environment was the variety and diversity she would see in her work. Now, as she looks back at the trajectory of her career path, she is thrilled with her vocational choice. She begins, "I really enjoy the diversity of work in environmental remediation. Every project poses new challenges and  teams to work with. On top of that, you are doing good for the earth – I certainly feel it going to work every day." As a Project Geologist at Group Delta Consultants, a leading west coast geotechnical and environmental firm based in California, Boniface is responsible for technical support and management on a variety of environmental projects. These include Phase I & II Environmental Site assessments, remediation, and litigation support.
Aside from the technical aspects of her role, she also serves as a leader on the business development team by working closely with the Group Delta marketing department, clients, and partnering with companies like REGENESIS®. She adds, "My business development role involves networking, attending conferences, facilitating meetings with new clients, and working in tandem with diverse departments at Group Delta to ensure full utilization of our firms services."
Prior to joining Group Delta, Boniface served as a Staff Geologist at a leading multi-regional design and environmental professional services firm. To prepare for a career in environmental remediation, she earned a B.S. in Geology, with a minor in Energy Technology & Management, from Texas Christian University, where she graduated with honors and received the Jarvie Family Geoscience Scholar Award.
While there is much she likes in her role at Group Delta, the company's culture is a key draw, which fosters work independence in a team-like atmosphere. She continues, "My managers, have been excellent mentors throughout my career. They continue to provide guidance and wisdom when I need it, yet they allow me to run with new ideas and try new things. I also enjoy the flexibility, creativity, and critical thinking skills involved in my role. Ultimately, the best feeling is coming full circle: finding a new client, onboarding them to Group Delta, and executing projects."
To stay abreast of emerging technology and industry trends, Boniface regularly attends webinars and conferences, and maintains her annual 40-hour HAZWOPER license. She adds, "I really enjoyed the PFAS State of the Union webinar series hosted by REGENESIS. Again, they are leaders in the industry and provide invaluable information when it comes to the fast-changing regulations surrounding PFAS." With the experience she is garnering, Boniface is well on her way to achieving her professional goals, which include leading project management, client relations, and business development, while staying involved on the front lines of innovation and regulation. When asked about the most rewarding aspect of her work, she reflects on the satisfaction that follows when a project site has been cleaned up and in its re-use phase. "A good example of this is the Los Angeles State Historic Park project. Back in the day, the land was used as a railyard and burn pit for just about anything. When the rail station was retired, the land sat unused and contaminated- right in the heart of downtown LA. Through our work at Group Delta, the land was cleaned and revitalized, and transformed into a gorgeous public park. In fact, the park stages concerts now that we can all enjoy! Without our complex and innovative environmental remediation efforts, none of that would be possible."
When it comes to working with REGENESIS, Boniface appreciates their consistent level of efficiency and superior teamwork. She continues, "I have personally worked with the technical sales and marketing teams and they are an absolute pleasure to work with. The Group Delta team had lunch with REGENESISa few months ago and we were discussing the future of PFAS. I mentioned seeing Class Action lawsuits surrounding major beauty brands for promoting 'clean' products, but actually having hazardous amounts of PFAS in them. Through this discussion, we were introduced to their marketing team. Through this partnership, we have created a campaign targeting manufacturers of PFAS within the cosmetics industry. This was a wonderful creative and innovative approach to bring together the technical and marketing teams at both Group Delta and REGENESIS."
Living in the trend-forward coastal community of Hermosa Beach, CA, Boniface works out of the Group Delta Irvine office. Away from the demands of her work, she finds time to play beach volleyball and tennis, and travel to National Parks. "My bucket list includes visiting every National Park, and I've been to 18 so far! My favorite are Yosemite and Big Bend. Yosemite has such breathtaking views and spectacular wildlife. Big Bend has the desert mountains and canyons, and the Rio Grande is the perfect slow moving, refreshing swim for those hot Texas days. Camping along the banks of the river and feeling the cultures of the Mexico and USA border towns is wonderful. The National Park system is such a great way to see the most beautiful land the world has to offer, in a reverent, easy, and accessible way. I also love exploring the live music scene, especially at the iconic Wiltern Theater. The venue is an old, renovated theater and it seats approximately 2,300 people, so there's not a bad seat in the house." For volunteer work, she finds time to help with fostering dogs through the Southern California Golden Retriever rescue.
As a woman in what has, for years, been somewhat of a male-dominated industry, Boniface sees great potential for women to leave their mark, and feels there are a multitude of industry-related career opportunities available. She concludes, "I would encourage women studying in the STEM field to not be intimidated by the 'boys' (haha). There are plenty of women in the industry and we are such a supportive group! When I graduated school, I was the only woman in my class, and when I started my career, I was often the only woman in the room. Now, I am pleased to see women involved in almost all of my projects. There is a large push for women to enter the STEM fields and I am looking forward to getting involved with non-profits and organizations that encourage this line of work. One that comes to mind is Demo Chicks, a non-profit based out of Long Beach that encourages young girls to explore a career in construction."
REGENESIS is proud to recognize Katherine Boniface, Project Geologist for Group Delta Consultants, as a "rising star", valued client and partner in environmental remediation, and they appreciate her dedication and leadership in providing successful remediation outcomes for REGENESIS and its clients.