The term "brownfield" is defined as a former industrial or commercial site where future use is affected by real or perceived environmental contamination. In our industry, we work with a lot of brownfields since our main goal is to eliminate the presence of dangerous contaminants affecting the environment and human health.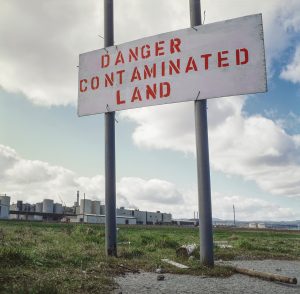 In 1980, The Comprehensive Environmental Response, Compensation, and Liability Act (CERCLA) was put into effect which made the owner of any property liable for contaminants in the soil. This has made the issue of contaminants an important topic for business owners and greatly opened the need for REGENESIS products and services. Naturally, any business owner would want to avoid any liability and will undergo an Environmental Site Assessment (ESA), or a detailed investigation of the property.
Ever wonder why a deserted, old warehouse is just taking up space and not being used for something else? Well, this property is probably a brownfield and cannot be used for any business purpose until the contaminants are removed and under control. Brownfields tend to be abandoned or closed industrial or manufacturing facilities but they can also be closer to our daily lives than most would assume. For example, dry cleaning properties can be brownfield sites because they operate with harmful contaminants, specifically chlorinated solvents. Additionally, gas stations can be brownfield sites which also include hazardous chemicals in their processes. Further, any site where pollutants are dumped can turn into a brownfield.
According to the United States Environmental Protection Agency (EPA), there are approximately 450,000 brownfields in America; however, this figure just represents the sites that have had a thorough ESA investigation – the true number is much larger than we'd think. So why is this still such a big issue? This is because brownfield projects tend to be a time-consuming and expensive process, thereby hindering the common businessperson who identifies this type of venture as being too much effort and money. For example, say you're a franchisor and you come across a cheap property you think has the potential for a new chain restaurant in a busy commercial area. You realize the property contains harmful contaminants and is unusable. Luckily, there are remediation solutions available that can transform this negatively perceived barrier into a worthy, beneficial business investment. REGENESIS Remediation Services provides technology-based, cost-efficient, reliable solutions to brownfield projects making them unique challenges with considerable potential. Our sales team loves to tackle new brownfield projects and our company is overall committed to top remediation services to cultivate a cleaner and safer tomorrow.
In conclusion, cleaning up brownfield sites remains a very important issue in society today involving human health, business development, and the protection of the environment. Whether brownfields are in remote or commercial locations, they can provide excellent opportunities for economic growth and development: The cleanup of one brownfield site in a community can result in substantial job growth. If you're interested in brownfields or know of a project in demand of a contamination cleanup, please take a look at our website and familiarize yourself with the variety of products REGENESIS offers today.
Thanks for reading!