Precise Mass Flux and Groundwater Velocity Measurement Made Easy.

FluxTracer Flux Mapping Tools
Easy-to-use devices that vertically delineate contaminant mass flux and groundwater speed within an existing monitoring well to aid in site characterization and remedial designs. The FluxTracers consist of five separate two-foot-long stainless-steel screen canisters that are secured in series on a pre-measured central wire line equipped with a modified J-Plug well cap. FluxTracers are always pre-assembled, arriving at your site ready to deploy with no on-site construction required.
Contact Us To Learn More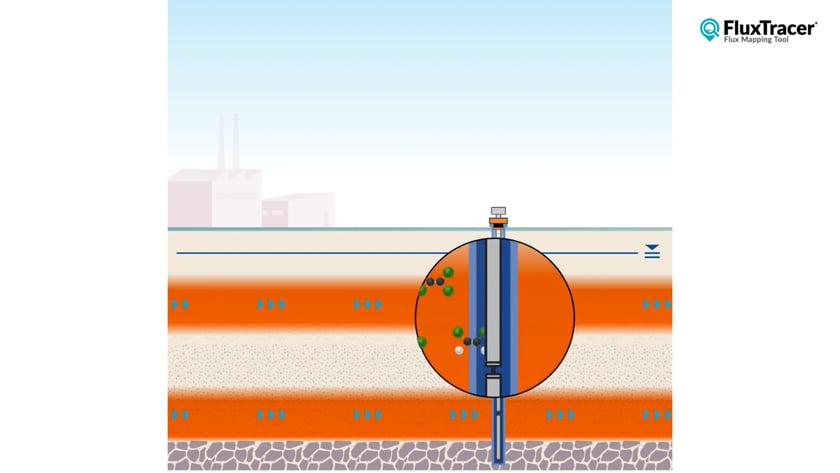 Animation shows FluxTracer being applied.
What site contaminants are FluxTracers compatible with?
Currently we only analyze for PCE, TCE, and cis-DCE. We do have plans to expand our mass flux analysis capabilities to PFAS, additional cVOCs, and petroleum hydrocarbons in the future. Enviroflux can analyze for many more contaminants, including some inorganic species.
Can you use this tool for site characterization? If so, do you need to have the screen throughout thewater-bearing zone?
These tools are a good way to identify and characterize groundwater zones that control the size and shape of a plume when placed in properly installed wells. Prior characterization is needed to identify the contaminant-carrying zones, including high-resolution and/or discrete water and soil sampling. We think that the characterization step is best performed in monitoring wells that are well placed along the plumes long axis and that have a longer screened interval or are nested.
What is the cost of FluxTracer?

In the US, the service is competitively priced, and depends on the length of device needed. Contact a REGENESIS regional representative for more information. We will not be servicing Europe at the moment with FluxTracers.

Follow all installation and retrieval directions.
Store the FluxTracers in the original shipping cooler until deployment. The cooler should be stored in a cool, dark location until deployment.
Do not remove the FluxTracers from the packaging until the time of deployment.
FluxTracers should be deployed within five days of receipt.
Wear appropriate personal protective equipment when handling.
REGENESIS currently only offers FluxTracer units for 2-inch diameter schedule 40 PVC wells.
FluxTracers are currently only appropriate for determining contaminant flux of chlorinated VOCs: PCE, TCE, and cDCE.
Let's Talk.
If you currently have a project and need a remediation solution now, visit our Request a Design page.
Have questions or want to explore some ideas? Contact Us to get in touch with a local representative.