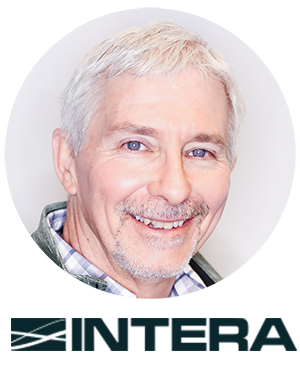 Throughout his 30+ year career, Joe Galemore, Sr. Vice President, Environment Services with INTERA Incorporated, a leading international geosciences and engineering consulting firm, has observed various trends and change within the environmental remediation industry. Not surprisingly, one of his most profound observations is the use of cutting-edge technology. He explains, "I have seen the industry change in a couple of big ways. Probably the most obvious change is what I see as a healthy focus on technology and risk, and how uncertainty in subsurface data affects the evaluation of risk. This change is being supported using computer-based tools that quickly evaluate different scenarios and provide the means to visualize the available data and model the various scenarios." As a Principal Geologist and PFAS Focus Group Lead for INTERA, Galemore is actively involved in the company's overall operations, which include technical sales, development of business strategic plans, senior technical review of work plans and reports, and serving as an advisor to project managers. While he enjoys all of these responsibilities, working directly with clients is especially satisfying. "Working with clients and project managers to solve challenges and problems is probably my most enjoyable responsibility."
Although Galemore joined INTERA over 15 years ago, like many within his field, he transitioned into environmental remediation after encountering significant challenges while initially working in the oil and gas exploration industry in the 1980s. "My background will probably resonate with many geologists who graduated in the 1980s, since my focus in college was to work in the oil and gas industry as an exploration geologist. However, the oil and gas industry crashed when I got my bachelor's degree and then again when I received my master's degree. After a brief stint teaching, I decided to retool my skills in groundwater hydrology and landed a position with an environmental consulting firm providing investigation and remediation services for petroleum storage tank sites." To prepare for his career, Galemore earned his BS in Geology from the University of Alabama, and later added a MS in Geology from New Mexico State University. When asked about how INTERA is preparing for the future of environmental remediation, he says the company's focus is on creating an ideal work environment, while using innovation that results in positive outcomes for its clients. He shares, "INTERA will continue to provide an exciting, technically-challenging, respectful, growth-focused workplace for employees, which will ultimately provide our clients with technology-driven, practical, and innovative strategies to problems so they can make informed, sustainability-focused decisions." To stay current with emerging trends and technology, he often attends REGENESIS webinars, which he feels are extremely helpful in staying on top of remediation methods, as well as obtaining valuable professional development hours necessary for his PG license.
When it comes to working with REGENESIS, Galemore feels it's their staff that makes a real difference. "As with most work situations, it is the people at REGENESIS that make work so enjoyable. For example, Carlos Ortiz has been very responsive and pleasant to discuss project challenges with, and he is deeply knowledgeable of in-situ remediation methods using injectable amendments. In one project I worked with Carlos on, back diffusion of chlorinated compounds from fine-grained units was providing a particular challenge. Carlos provided contacts and organized meetings to discuss the use of fracturing as a means for direct contact between amendments and the contaminant mass. The meetings led to the removal of more contaminant mass in the source area, and other REGENESIS staff were extremely helpful in the successful implementation of the injection event." As for specific REGENESIS products and solutions, Galemore says  3-D® Microemulsion, CRS®, and S-MicroZVI™ have been used often with effective reductive dechlorination of PCE and degradation products.
Residing in Albuquerque, NM, Galemore finds time away from work to enjoy a variety of outdoor activities that complement the area's landscape and natural beauty. He shares, "My hobbies and special interests include hiking, fly fishing, golf, and swimming. For hiking, I mostly trek in the mountains around Albuquerque and Santa Fe, since they are quite close to home.  I love the variety of different trails and experiences, and the effects they have on the senses. Most of my fly fishing occurs throughout northern New Mexico and southern Colorado." When asked what he enjoys most about his work, he says it's all about solutions. "I genuinely enjoy working with clients and coworkers, exploring their challenges, and providing solutions." And the most challenging aspect? "As most consultants can relate to, the multi-faceted and sometimes competing demands can be a little overwhelming at times, although it's nothing a little time on the stream can't cure." When asked what he feels the future holds for environmental remediation, Galemore feels concerns about future water supplies and PFAS will continue to create demand. He concludes, "I think the future is bright for environmental remediation professionals, especially in the southwest where severe drought is impacting supplies of clean water. Remediation of legacy petroleum and chlorinated contaminated sites is still strong, and the emergence of contaminants like PFAS and 1,4-dioxane as risks to water utilities, coupled with the availability of funding through the infrastructure law, will provide the motivation and resources necessary for future work."
REGENESIS is proud to have Joe Galemore, Sr. Vice President, Environment Services with INTERA, Inc., as a valued client and partner in environmental remediation, and appreciates his vast expertise and commitment to providing successful remediation outcomes for REGENESIS and its clients.