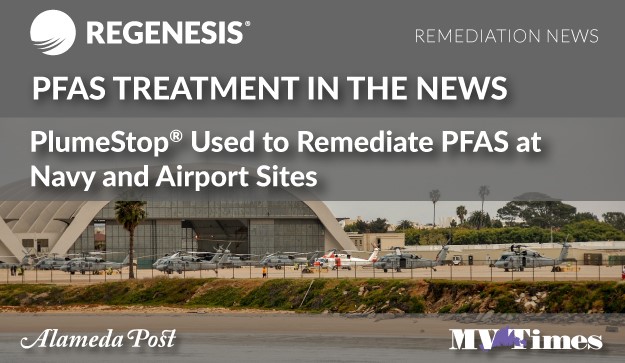 Alameda Post Article – Navy to Lock Down PFAS in Groundwater with Carbon
This article published in the Alameda Post discusses the Navy's use of injecting colloidal activated carbon (CAC), commercially sold as PlumeStop, into the subsurface to prevent PFAS contaminant migration. The goal of the project is to prevent the movement of PFAS into the Oakland Estuary. The approach using CAC subsurface injection was chosen as a low-cost alternative to pump-and-treat systems. The sustainable use of CAC turns the aquifer into a carbon filter and generates no PFAS waste. Once the carbon filter system is in place and performs as expected, the Navy will most likely utilize this method at other PFAS sites at Alameda Point.
Martha's Vineyard Times Article – PFAS mitigation pilot program begins at M.V. Airport
This article published in the Martha's Vineyard Times discusses the use of injecting colloidal activated carbon (CAC), commercially sold as PlumeStop, into the subsurface at Martha's Vineyard Airport. Tetra Tech vice president Ron Myrick, whose firm handled the testing and mitigation of PFAS around the Martha's Vineyard Airport area and completed the first stage of PFAS investigations in 2019, notified the commission during an August meeting about plans to use a remediation pilot program of "targeted PlumeStop application to assess mitigating further migration of PFAS" off the airport.
Subscribe To Our Monthly Newsletters
Featured Research Article – Top Groundwater Researchers Highlight 17 Commercial Field Projects Where PlumeStop Successfully Treats PFAS
Top groundwater researchers in the field of groundwater contaminant fate and transport recently published a REMEDIATION Journal article entitled Longevity of colloidal activated carbon for in situ PFAS remediation at AFFF-contaminated airport sites by Carey et al. The article highlights the application of PlumeStop colloidal activated carbon (CAC) at 17 commercial field projects to effectively treat PFAS in situ. The authors found that the vast majority of PFAS at airport sites are PFOS and PFHxS. This is noteworthy as these contaminants are preferentially sorbed to activated carbon when compared to the polyfluorinated carboxylic acid contaminants (i.e. PFOA) of similar chain length. The article also notes that the use of CAC in situ to treat PFAS is expected to have substantially greater treatment longevity compared to ex situ activated carbon use.
PFAS Treatment for Airports
REGENESIS offers the most advanced technologies to remove PFAS (i.e., Per-and polyfluoroalkyl substances) in groundwater and prevent downstream PFAS exposure risk. With PlumeStop®, airport environmental managers now have a proven remediation solution to eliminate the risk from PFAS at a fraction of the cost. PlumeStop removes PFAS from groundwater, thereby cutting off the exposure pathway to sensitive receptors, without expensive infrastructure like pump and treat systems.
Featured Case Study: Reductive Dechlorination Approach Treats Large Chlorinated Solvent Plume
This case study reviews the successful 
in situ
 treatment of chlorinated solvents at a former food processing plant located in a suburb south of Indianapolis. PlumeStop, S-MicroZVI, 3DME and BDI Plus were used in combination to strongly inhibit CVOC plume migration near the site property boundary while enhancing abiotic and biotic degradation of CVOCs at this location and in the upgradient plume area. 
Patriot Engineering and Environmental, Inc.
 (Patriot), a leading consulting firm based in Indianapolis investigated the site, discovering contaminants had migrated from an unidentified source and formed a large plume. In addition, it was found that the plume was being pulled toward a former (now inactive) public water supply well.
Employee Spotlight – Andrew Kavanagh, RRS Midwest Region Project Manager
It is often said "variety is the spice of life", and for Andrew Kavanagh, Project Manager II in the RRS Midwest Region, this phrase could easily be applied to his work. Kavanagh's role tasks him with a diverse range of responsibilities- from managing field teams and field personnel, to maintaining equipment, developing and contributing to new ideas and systems, scheduling projects, and much more. He begins, "A lot of us wear many hats, and by managing the RRS applications in the Midwest, I am involved in a bit of everything as it relates to the RRS division. I also develop much of the technical training content for our division in conjunction with our R&D and Technical Services teams."
REGENESIS Remediation Services – Performance Driven, Results Based
REGENESIS Remediation Services (RRS) is the nation's leading in situ remedial technologies service provider. RRS is staffed by highly trained and degreed remediation professionals, comprising many of the industry's most experienced operational and technical experts. To serve our clients nationally with the best combination of talent and capabilities, we have regionally-based operation centers, each supported by a technical design lead, project manager, project supervisors, environmental staff scientists, and dedicated injection equipment.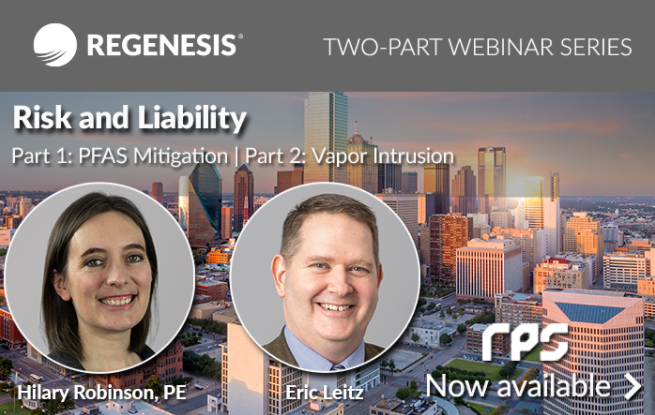 Webinar Recording: Risk and Liability, Part 1 & 2 – Now Available
In this two-part webinar series we were pleased to have special guest speakers Hilary Robinson, PE, Emerging Contaminants Lead and Eric Leitz, Director of Legacy Site Services at RPS Group. Their presentations discussed risk mitigation and managing liabilities, taking a look at PFAS contamination and vapor intrusion. The full recordings of both webinars are now available!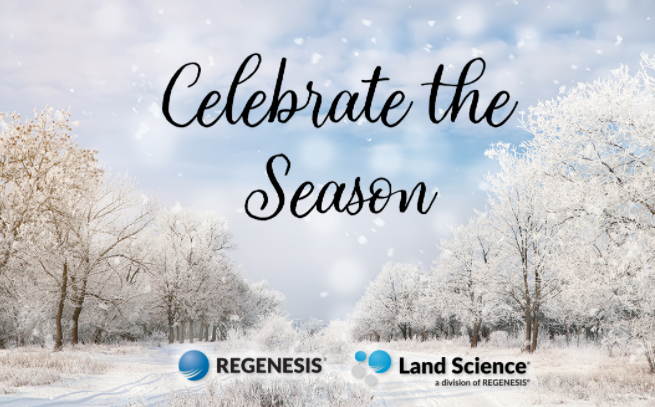 The team at REGENESIS and Land Science wishes you and your family Happy Holidays, and we look forward to working with you in the New Year!
Connect with us at Upcoming Events 
Questions?
REGENESIS has remediation experts based worldwide to assist you in your brownfield site cleanup. As the technology leader in advanced bioremediation solutions, we can help ensure success on your next remediation project. Use the map on our website to find your regional REGENESIS contact today.